Bishopsgate gets bins back 20 years after IRA explosion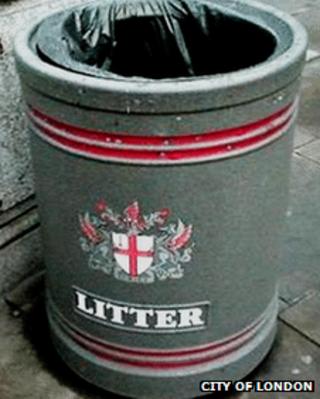 Rubbish bins removed from London's Bishopsgate 20 years ago after an IRA attack are to be reintroduced.
More than 2,000 bins were cleared from the Square Mile after a truck bomb killed one person and injured 44.
Following complaints about the litter, the City of London Corporation will install 20 bins as part of a two week trial.
Bishopsgate councillor Tom Sleigh said it shows the City has "responded quickly" to local concerns.
Mr Sleigh, who has campaigned for the return of the bins, said litter was particularly bad at the weekends.
'Special location'
"The City is no longer Monday to Friday 9am-5pm," he said.
"People come to Spitalfields, Shoreditch and Brick Lane at weekends too, and as a local I see the increasing problem with litter, and people complain to me about it."
A spokesman for the City of London Corporation told the BBC that following the removal of the bins in 1993, City workers had adapted their habits - taking rubbish home with them or putting it in shop bins.
However, he said it was a "special location" with bars and nightclubs that attract people in the evening.
"The security assessment is different to 1993 - not lower or higher - but the police have been consulted and are okay for this to go ahead," Mr Sleigh said.
'Security considerations'
A spokesperson for the City of London police said: "Currently there is nothing to suggest that bringing the bins back would make the City more vulnerable.
"The new bins will be a different design to those previously placed in the City and security considerations will have been factored in the design."
Experts now say the terror attack in 1993 marked a turning point in how security was dealt with in the capital, after nearby buildings were damaged by the shockwaves.
According to the City of London Corporation, there is currently a "very sparse" scattering of 39 bins in random locations, such as parks, across the City.
However, the trial marks the first "street of bins" since the IRA attack, increasing the number of bins in the area by 50%.