Animal rescues halve for London Fire Brigade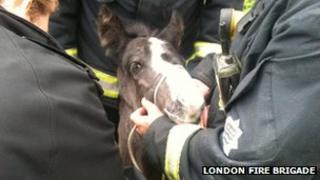 Animal rescues in London have fallen by more than half in the last year, the fire brigade has said.
Fire crews were called out to 282 animal rescues, the lowest number since the London Fire Brigade (LFB) began collecting data in 1999.
An LFB spokesman said: "Firefighters rescuing cats from trees may soon become a thing of the past".
It said the drop followed a campaign last year to encourage people to call the RSPCA instead of dialling 999.
The campaign highlighted unusual rescues including a chimp stuck in a chimney, a kitten in a bongo drum and a hamster trapped in a disabled lift.
'Time consuming'
In 2011-2012, the brigade rescued 650 animals - one animal every 13 hours.
With each rescue costing the Brigade around £300, it said the decline has saved taxpayers more than £100,000.
London Fire Brigade group manager Mark Hazelton said it was excellent news and showed that people had "clearly taken heed of our advice".
He added: "I'd still like to remind people that if they see an animal stuck somewhere, the first port of call should always be the RSPCA, not the emergency services.
"When firefighters are out rescuing animals, they're not available to attend real emergencies.
"As well as being time consuming, animal rescues cost the tax payer and I'm sure most people would prefer their money was being spent on training or fire prevention work, than cats up trees."
In 2013 the London Fire Brigade was called on to deal with:
A snake on the roof of a mosque in Camden
A dog trapped on a window ledge above a betting shop in Waltham Forest
A hamster trapped in a hole in Islington
A pigeon trapped in a television aerial in Richmond
A dehydrated cat in distress in Greenwich
A seagull chick stuck on scaffolding in Sutton
A bird stuck in a trampoline in Lambeth
An injured peacock on the roof of a house in Sutton
A puppy in a precarious position in Hackney
A bird of prey trapped on a roof