Family escapes north London perfume bottle blaze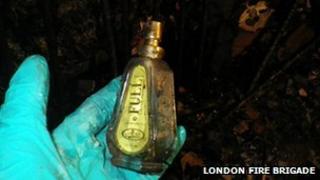 A mother and six children have escaped a house fire in north London caused by the sun's rays on a collection of perfume bottles.
The blaze severely damaged the first floor of the house in Edmonton.
It was sparked by the sun shining through the window and refracting off three or four perfume bottles, the London Fire Brigade (LFB) said.
The family managed to get out of the property before crews arrived and were unharmed.
Edmonton fire station watch manager Adam Baker said the house was just around the corner from the station which meant fire crews were able to get there quickly and stop the fire spreading to the roof.
He said: "Flames were shooting out of the bedroom window and melted the frame and the rest of the top floor was full of smoke when we arrived."
Mr Baker advised against keeping mirrors or glass bottles on windowsills.
Last week a mirror caused a house fire in Enfield while the owners were away on holiday, the LFB said.