London's Admiralty Arch hotel plans approved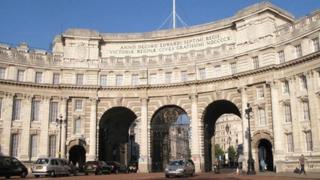 Plans to develop the historic Admiralty Arch in central London into a luxury hotel have been approved by Westminster Planning Committee.
The gatehouse - which leads from Trafalgar Square to Buckingham Palace - will be developed by Rafael Serrano.
The developer will pay £600,000 to the council for social housing and a further £100,000 for "public art".
Building of the arch, a memorial to Queen Victoria, was completed in 1912.
Last October, the ceremonial gateway, between Trafalgar Square and The Mall, was leased by the government to development company Prime Investors Capital (PIC).
The government agreed to lease it the Grade I listed building for 99 years for £60m.
PIC plans to transform it into a five star 100-bedroom hotel with ballroom, spa and fine dining restaurant.
Redevelopment proposals include plans to build royal and presidential suites, as well as residential apartments.