London raids after suspected gangs 'taunt' on Ask.fm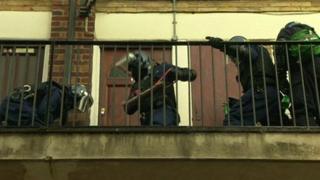 Raids have been carried out across London on suspected gang members following alleged taunts online.
The Metropolitan Police carried out raids at 114 addresses from about 05:30 BST and made 112 arrests.
A police spokesman said some gang members had taken advantage of Ask.fm which lets users write anonymously allowing them to taunt other users and raise their own profile.
A handgun, two imitation firearms and a Porsche were seized.
'Super recognisers'
About £4,000 was also recovered under the Proceeds of Crime Act.
The force said the raids were a result of increased gang tensions in the run-up to Notting Hill Carnival this weekend.
Ch Supt Mick Johnson said the force would also be using 17 "super recognisers", for the first time at the carnival.
The officers specialise in recalling hundreds of offenders' faces, names and birthdays, and will watch the carnival's CCTV to identify those breaking bail conditions or committing crime.
'Bullying posts'
Ch Supt Johnson said: "We are intent on ensuring that those who plan on coming to the carnival to commit crime of any kind are prevented from doing so, which is why we will be using a team of super recognisers.
"This will enable us to quickly identify offenders on the day and ensure that if they are not caught at the event, we will be able to track them down and arrest them afterwards."
The social media site Ask.fm, which Scotland Yard used to track potential tensions between gangs, has come under criticism recently following the death of a teenager who used the site after her father said she had received bullying posts on her page telling her to die.
The site's owners said it was making improvements to prevent further bullying and harassment taking place.