Sailors set off on Clipper Round the World Yacht Race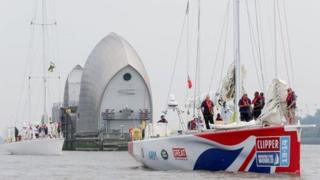 Hundreds of sailors have left London on the 40,000 mile (64,374km) Clipper Round the World Yacht Race.
Twelve teams, largely made up of novices, will race between six continents during the Clipper Race before returning to London next July.
The 70ft (21m) racing yachts left from Tower Bridge in London for Brazil at 13:30 BST on the first leg of the race.
It is the first time London has hosted the race and 40 years since the Thames featured in a world sailing event.
Flotilla of boats
The race got under way after a flotilla of boats travelled down the Thames.
The flotilla, the largest since 2012's Diamond Jubilee celebrations, included a paddleship steamer, pilot boats, police boats and spectator boats.
The race was founded by Sir Robin Knox-Johnston who became the first person to sail solo non-stop around the world.
He said: "The Clipper Round the World Yacht Race is a real jewel in the crown of international sailing, the only race in the world that takes every-day people and turns them into ocean racers."
Most of the crew members - 670 from more than 40 nations - are novices, although each boat will be skippered by a professional.
'My best shot'
Rich Gould, from Wiltshire, the skipper of Invest Africa said: "We are ready to race. Invest Africa are prepped and ready to go sailing. No nerves - just sheer excitement and determination at this point. We feel good."
Chris Hollis, from PSP Logistics, said: "I have a very excited crew - the mixture of Aussies, Kiwis, South Africans and English is proving to be a lot of fun.
"The pressure is there with Australians having won the last two races, and I am going to give it my best shot for a top three finish."
The only female skipper in the race, Bristol's Vicki Ellis, said she was "proud" to be taking part.
"The nerves could be getting to skippers right now but all the training and preparation has paid off. I'm really looking forward to this moment," she said.
And the youngest female competitor, 18-year-old Sophie Hetherton from York, who passed her A-levels last month, said: "Sailing round the world and learning about the oceans, geography, nature and different countries we visit will be the perfect way to cement what I have learnt and inspire me for my future endeavours."
The Clipper Race takes in South Africa, Western Australia, Sydney, Singapore, China, San Francisco, Panama, Jamaica, New York, Derry Londonderry and the Netherlands before returning to London's St Katharine Docks in July 2014.
Mayor of London, Boris Johnson said: "It's a fantastic honour for the capital to mark the beginning and end of this feat of human endeavour."