Westfield Stratford Breitling store in axe attack raid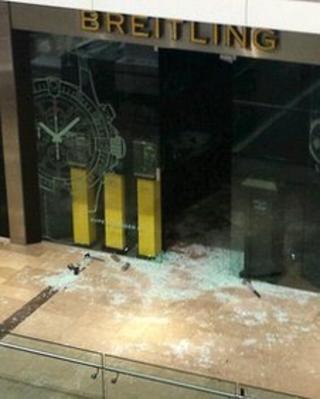 A gang of robbers armed with axes and hammers smashed through the front of an upmarket watch store in east London as members of the public ran "screaming" from the scene.
The Breitling shop on the ground floor of the Westfield shopping centre in Stratford was attacked at 00:05 BST.
Police said four men smashed the window of the store while a fifth waited in a vehicle outside.
A Taser was used on one of the suspects and five men have been arrested.
'Big bald guy'
Police said the man shot with the Taser did not require hospital treatment.
Adam Hughes, who was in the shopping centre at the time, said: "Me and my girlfriend were coming down the escalators from the cinema with a bunch of other people near Primark and we saw a big bald white guy running into Primark.
"We then heard banging noises, noises that sounded like flash-bang grenades and men shouting 'get down, get down', at which point a flood of people started running towards escalators at the other end of the centre whilst screaming to get out.
"We heard what I can only describe as gunshots, maybe warning shots and a flood of men in balaclavas and bullet-proof vests armed with guns running towards a jewellery store.
"We then kept running into the train station with people screaming and climbing over the gates to get on to trains."
Police later said no guns were fired.