EDL leader Tommy Robinson charged over London march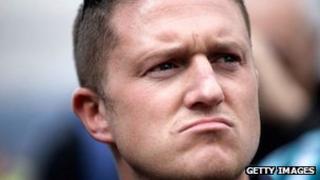 English Defence League leader Tommy Robinson has been charged over a march by the far-right group in east London.
Up to 500 supporters walked from Queen Elizabeth Street to Aldgate on Saturday after police cut short their plan to march through Tower Hamlets.
Stephen Yaxley Lennon, which is Mr Robinson's real name, is accused of not adhering to the conditions of the march and inciting others to do the same.
He has been bailed and will appear in a magistrates court on 22 October.
In total 300 people were arrested on Saturday.
Scotland Yard said 286 people were part of a counter-demonstration against the EDL and were arrested for breaching the conditions imposed on them.
The other 14 were held for public order offences including violent disorder and criminal damage.
Two others have been charged along with Mr Robinson - a 15-year-old boy who is accused of a public order offence and will appear in Camberwell Magistrates' Court on 19 September, and a 22-year-old man who has been charged with assaulting a police officer and failing to answer bail.
He will appear at West London Magistrates' Court on Monday.