Insurers win riots damages claim against Met bosses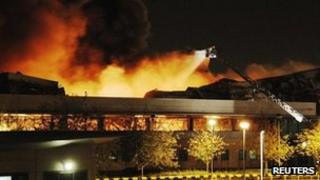 Two insurance companies have won their case against police bosses for compensation over the looting and arson of a building during the 2011 riots.
They claimed the body responsible for the Met should pay for the damage caused to the Sony distribution centre in Enfield, north London.
Legislation governing police says compensation for "damage by riot" should be paid out of police funds.
The amount that will have to be paid is yet to be determined.
The High Court ruled the Mayor's Office for Policing and Crime (MOPAC) was responsible under the Riot Damages Act.
However the insurers for Sony had sought £49.5m for property, customer stock and business interruption while the insurers for the owners of the warehouse had wanted £9.35m for property damage and loss of rent.
The barrister for the police argued that the attack on the warehouse was a "planned criminal enterprise" and a "planned raid" rather than a riot.
He said the group "coordinated their activities by mobile phone or blackberry messaging" to break in to the building in a "quiet industrial area".
'Total destruction'
In his ruling, Mr Justice Flaux said consequential losses, such as loss of rent, were not recoverable.
The distribution centre was damaged on 8 August 2011 during the widespread riots that started after police shot Mark Duggan in Tottenham.
The judge, in the written ruling, said the warehouse was attacked "by a group of some 25 youths" who had earlier congregated on a nearby housing estate.
They "smashed" their way into the building using "a variety of makeshift weapons and ran through the property looting it of a certain amount of the stock held there".
"Two of them then threw petrol bombs into the stacking within the warehouse and they all made their escape, some carrying what had been looted, and left the warehouse to burn.
"The whole incident took no more than just over three minutes.
"However the fire took hold and burned for some 10 days, with the total destruction of the plant, equipment and stock."
Mr Justice Flaux ruled that the group was acting "riotously" because it involved a large group of people and because they were acting in an "excited, volatile manner".
He also said the police had the opportunity to prevent it as they had received numerous calls from the public warning about a local gang which was involved in some rioting in Enfield Town on the previous night and they could cause trouble again.
A spokesperson for MOPAC said: "While we are pleased that the court has recognised MOPAC is not responsible for covering consequential losses, it is immensely disappointing that they have ruled this was a riotous act.
"There is an important point of principle and public money at stake here and we have sought leave to appeal."