Lonely Planet Guide: Thames Path among top city hikes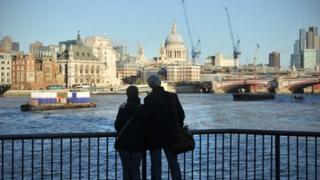 The Thames Path through London has been named as one of the top city hikes in the world - despite it not having any brutal climbs or terrifying descents.
The trail came second behind Tijuca Forest in Rio de Janeiro, Brazil, as listed in Lonely Planet's book.
The route begins at the river's source in the Cotswolds and runs 184 miles (300km) to almost the North Sea.
Arthur's Seat in Edinburgh was also in the top 10.
The volcanic outcrop, which overlooks the Scottish capital, was praised for its views of the city landscape.
The book, which consists of 100 "top 10" lists, also included the London Underground in its list of the world's Freakiest Foot Races.
The section of Thames Path from Kingston eastwards to Greenwich is described in the book as "a London highlights reel, passing Kew Gardens, Battersea Park and power station, Westminster and Big Ben, the Millennium Eye, Shakespeare's Globe and so on".
"Expect surprising contrasts: the leafy emptiness of the riverbank through Richmond and Kew against the chaos of the South bank, where the entire world seems to come to meet," it adds.