Bow Street Court gains police museum go-ahead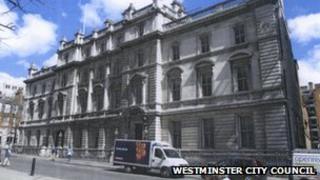 Permission has been given for a police museum to be created within the former Bow Street Magistrates' Court and police station.
Old cells in the Grade II-listed building will be used for the museum.
A boutique hotel will also be created, with the court room becoming a restaurant after getting approval by Westminster City Council.
The court, which closed seven years ago, is on the buildings "at risk" register.
Robert Davis, Westminster City Council's cabinet deputy leader, said it was fitting a museum would be created where the Bow Street Runners - London's first professional police force - was founded in 1749.
"They numbered just six men to begin with but set the early standards for crime-fighting in the capital," he said.
"I was delighted to grant planning permission for an exciting museum to pay tribute to their work, and this application will return a hugely historic building back to public use."
Bigger museum
At the moment, artefacts from the Met's 184-year history are only available for the public to view without appointment at the Metropolitan Police Heritage Centre in Fulham, south-west London.
Neil Paterson, curator of that centre, said it was "fantastic" the Met had been offered a site "uniquely connected to our past".
A spokeswoman for The Mayor's Office for Policing and Crime (MOPAC) said discussions are continuing with parties including the Museum of London for a museum space big enough to bring together artefacts from several collections.
This would include the Crime Museum, which will need to move when Scotland Yard closes.
The museum area approved for the Bow Street site will only be 128 sq m, using eight cells and a corridor for exhibits.
A 99-year lease will be offered at a "peppercorn rent", said the planning agent Montagu Evans.
The Covent Garden Area Trust said it welcomed the opportunity to bring the long-empty property "into good use".