Policeman sentenced for assaulting spitting suspect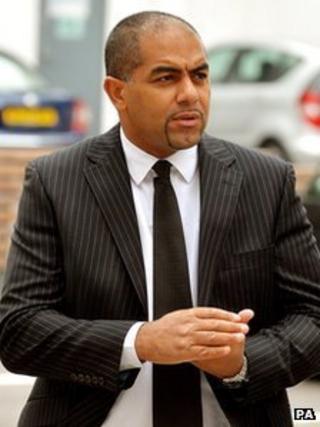 A Metropolitan Police officer has been sentenced for punching a suspect in the face after he spat in the PC's mouth.
Rohan Scarlett, 47, was accused of assaulting the man as he put him in a police van in February.
Scarlett was transferring the suspect from Islington police station to custody in Lewisham, south-east London.
The officer was found guilty of common assault and was sentenced to a three month community order.
He was also given a curfew and ordered to pay compensation to his victim.
During his trial at Highbury Magistrates' Court in August, Scarlett, from Croydon, south London, said he had struggled while transferring the suspect to custody.
But as he put him inside the van, without warning the man spat at close distance in his face, Scarlett told the court.
'Remain professional'
"A big lump went in my mouth and left eye and spray went over my face and vest," he said.
"Because I hadn't heard him bringing it up I thought he was going to spit at me again so I struck him in the face area."
Delivering the guilty verdict, chair of the bench Sue Rose said: "We do not accept that the defendant honestly believed that he needed to use force to defend himself in these circumstances."
The court was shown a photograph from the scene, with a pool of blood on the seat where the suspect had been sitting.
After the sentencing on Friday, Commander Allan Gibson, of the Metropolitan Police's directorate of professional standards, said: "I appreciate that there was alleged provocation in this case, but police officers are expected to remain professional at all times, irrespective of provocation.
"PC Scarlett failed to remain professional - he reacted and has paid the price of being convicted at court."
The PC, who has been an officer for eight years, remains suspended from duties and the Met's misconduct process is continuing.