Mark Duggan inquest: Letter claiming 'assassination' false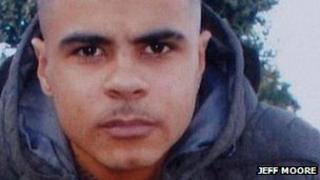 A letter sent to the Metropolitan Police claiming Mark Duggan was "assassinated" by officers in London was false, an inquest has heard.
The letter, sent to commissioner Sir Bernard Hogan-Howe, claimed a link between an informant and an officer had led to the shooting of Mr Duggan.
His death in Tottenham sparked riots which spread across England.
Det Insp Katie Lilburn told the inquest at the Royal Courts of Justice that no such link had been found.
The author of the letter, using the alias Richard Chamberlain, claimed Mr Duggan was shot as a result of being set up by a police source.
'Not registered informant'
He claimed he was a journalist investigating corruption in Operation Trident, which was looking into gang violence.
He said the informant, referred to as U1, persuaded Mr Duggan to collect a gun before tipping off police.
The author also claimed he was given a list of names of alleged police informants, including one who was said to be the leader of the Tottenham North Star gang and suspected of six gang-related murders.
However, Ms Lilburn told the court there was no link and said U1 "is not nor has ever been a registered police informant".
She said the letter writer had been identified as a defendant who was facing trial at the time, who was not an investigative journalist.
The Crown Prosecution Service is considering whether to prosecute the man for attempting to pervert course of justice.
Earlier the court heard from Strategic Firearms Commander Fiona Mallon that Mr Duggan had been one of six people officers had been briefed about on the night before he was shot.
She said it had been anticipated that Mr Duggan would collect a gun from Kevin Hutchinson-Foster and that firearms officers and armed surveillance officers were later deployed.