Head teacher Sir Alan Davies avoids jail over fraud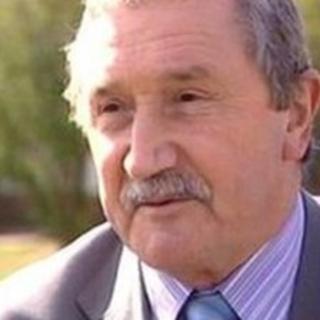 An "inspirational" head teacher has been given a suspended prison sentence after admitting false accounting.
Sir Alan Davies, 66, of Grants Close, the former head at Wembley's Copland School, in north London, pleaded guilty to creating a false paper trail on bonus payments and allowances.
Davies, knighted for his services to education, resigned in 2009.
At Southwark Crown Court, Judge Deborah Taylor said: "Your dishonest behaviour represents a fall from grace."
'Honest payments'
It had been claimed that Davies paid himself, three staff members and two governors a total of £2.7m over several years through bonuses and salaries.
But charges of conspiracy to defraud against Davies and five others relating to that alleged plot were dropped.
Instead Davies pleaded guilty to six counts of false accounting after he admitted creating eight back-payment documents at the same time, for sums totalling £315,000.
Defending Davies, William Clegg QC, told the court he was an "inspirational" teacher and the offences needed to be taken in context.
He said: "This is not a case of documents being forged to permit payments to be made that were unlawful and not agreed or made dishonestly. The position is the opposite.
"The payments were honestly made and honestly received. This is not somebody seeking to obtain money he was not entitled to."
'Profound error'
Prosecutor John Black QC added there was no dishonesty in the making or receiving of the payments.
He said: "The dishonesty relates to false paper trails in order to legitimise these payments.
"The Crown say they [paperwork backing up payments] were all generated at the same time, after Sir Alan Davies had become aware of the impending or likely scrutiny, to give the impression the right procedure was being adhered to."
A charge of money laundering against Davies was also dropped.
Following the case, Davies said: "In some instances I have felt that we were being tried by the media and there were a lot of misrepresentations made in the press, many of which were wholly unfounded.
"I do, however, have to accept that I did not have all the necessary paperwork in place and I made a profound error of judgment by backdating eight documents."
In a statement, Brent Council, said: "The council will always act robustly and take action where allegations of financial irregularities have been made, to investigate and pursue legal action.
"In this case the guilty plea of false accounting vindicates the actions taken although we are disappointed the Crown Prosecution Service saw fit not to pursue the conspiracy to defraud."