Haringey Council failed to prevent another child being abused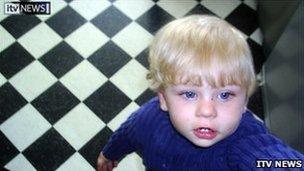 The council responsible for Baby Peter and Victoria Climbie has failed another child, a serious case review has found.
The four-year-old boy, known as Child T, suffered horrific abuse by his parents and was once found to have had more than 50 bruises on his body.
He was twice taken to hospital but was returned to his mother and stepfather before being taken into care in 2011.
The review by Haringey Local Safeguarding Children Board found failings across several agencies.
It detailed a weakness in following up collaborative investigations across police, social workers and medical staff, along with a failure to focus on what life was like for the boy and his three siblings.
It also blamed a reluctance to "think the unthinkable" and recognise all the adults in the family as the perpetrators of abuse as well as a lack of alertness to the possibility of child abuse being the cause of his injuries.
Referring to the case of Peter Connelly, known as Baby P, who died in August 2007 aged 13 months after sustained abuse by his mother, her boyfriend and his brother, the report's authors remarked: "The correspondence with the abuse of Peter Connelly cannot go unmarked."
It added that the "list of concerns sounds like a textbook presentation of frequently-found weakness in the protection of children".
In June 2010, Child T first came into contact with the authorities after he was taken to the A&E department at North Middlesex Hospital, in Edmonton, by his mother and stepfather.
He had bruising around his eyes, forehead and nose, and swelling.
His heroin addict stepfather, who, along with the boy's mother is Polish, told medics the boy often ran around and hit himself on the wall.
A paediatrician who examined the child the next day said he should be referred to children's social care services, but the fax was mistakenly sent to Enfield instead of Haringey. Enfield Council referred it to Haringey days later.
In February 2011, police were also called to the family home after Child T's mother accused his stepfather of being violent to both him and herself.
The toddler was taken to hospital by police the following day where a doctor said his injuries were "highly suspicious".
On one of the hospital visits, Child T told a doctor he was being hit with a belt and a stick by his stepfather.
In a police interview, the stepfather, known as Mr C, denied injuring the child, claiming the mother and maternal grandmother, who lived with them, hit the child with a slipper.
There were also claims that Child T's younger sister and older half-sister were abused by Mr C, and that he had tried to drown the older girl in the bath.
The three children, and Child T's six-month-old half-sister were eventually taken into care.
Mr C was sentenced to four years in prison in October 2011 for assaulting a person under the age of 16.
Haringey Council leader Claire Kober said the case happened during a period of rebuilding their children's services.
"We fully accept the findings of this SCR and apologise unreservedly for the failings set out in the report," she said.
"We are committed to a culture of continued partnership working, learning and improvement...so that we can be confident that issues like those raised in this SCR are less likely to arise again."
Related Internet Links
The BBC is not responsible for the content of external sites.