Carole Waugh death: Men 'killed woman to steal assets'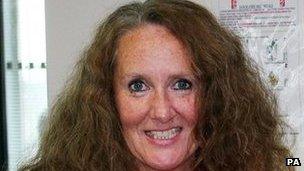 A wealthy woman was murdered by two "compulsive gamblers" in order to steal her property and financial assets, a court has heard.
Carole Waugh, 50, disappeared from her home in Marylebone, central London, in May last year and her remains were found three months later.
The Old Bailey heard that Rakesh Bhayani, 41, and Nicholas Kutner, 48, had killed Miss Waugh in order to feed their gambling habit.
The pair deny murdering Miss Waugh.
Patrick Gibbs QC, prosecuting, told the jury that the men "had a taste for grand and expensive things and were gripped by the same compulsion to gamble".
Miss Waugh's body was found in the boot of a car in a garage in New Malden in August 2012 after her family in Durham reported her missing.
Tests showed she had been stabbed in the neck. Mr Gibbs said bloodstains in the 50-year-old's flat suggested she had been killed there.
Mr Gibbs told the court that "the Crown cannot say whose hand was on the weapon".
"But whoever struck the fatal blow, we say that Mr Bhayani and Mr Kutner planned it, and were responsible for it, and having taken her life, they then systematically took all her worldly goods as well."
The prosecution claim that the men had a history of tricking and defrauding people.
The court heard that once Miss Waugh was dead, Mr Bhayani got a number of women to impersonate the former accounts clerk on the telephone.
He then "rehearsed" the women so they could strip Miss Waugh of her assets in shops and banks by using her credit cards.
Mr Gibbs said the women would not be on trial as the prosecution would focus on the murder of Miss Waugh and the concealment of her murder.
After her death, Miss Waugh's identity was also used to buy gold bullion, worth tens of thousands of pounds, and Krugerrands, the jury was told.
Mr Gibbs said Miss Waugh had not had a regular job, but had worked as an accounts clerk in Libya in the oil industry and was "a woman who had plenty of money".
"That was to prove her undoing," he said.
"She owned her flat, worth more than £600,000, she had savings, shares, jewellery and a cash income from working as an amateur escort."
He said Miss Waugh had been "prone to exaggeration" about her jobs and seemed lonely, but that her escort work played no part in her death, save that it may have been how she first met Mr Bhayani.
He told the court that Miss Waugh had known Mr Bhayani for a while, had visited him in prison and lent him £40,000.
"It seems that she had been intimate with him at one time or another in the past [and] may have first met him through an advertisement of herself as an escort that she had placed on the internet.
"Like everyone else that has met Mr Bhayani, she was taken in by him.
"She thought that he was her friend, but you may decide by the end of this trial that Mr Bhayani doesn't really do friends."
He said that Mr Bhayani had been released from prison, "knowing how much she had, he planned that she should die".
He added that Miss Waugh had known Mr Kutner less well and had not been intimate with him.
Mr Gibbs said the 50-year-old had been killed because of the money she had and the loan she made to Mr Bhayani.
He added that she had threatened to expose the 41-year-old to his wife and daughter who appeared to be "in the dark about the life he was actually living".
A third man, Elie Khoury, 40, of Spring Street, in Paddington, denies conspiracy to defraud.
Related Internet Links
The BBC is not responsible for the content of external sites.