Women sharing prison vans with men 'exposed to abuse'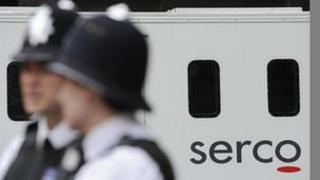 Private contractors exposed women prisoners at HMP Holloway to "intimidation and abuse" by forcing them to travel in escort vans with male inmates, an inspection found.
HM Inspectorate of Prisons prisoners at the largest women's jail in Europe being transferred in vehicles with men for long periods and no privacy screen.
The Prison Reform Trust said transport of livestock was better regulated.
A Prison Service spokesman said potential risks were carefully managed.
Joint venture Serco Wincanton, which has a fleet of 200 secure vehicles, transfers inmates between prisons, police stations and courts in London and the east of England, including The Royal Courts of Justice and the Old Bailey.
'Long, gruelling journeys'
An unannounced inspection found women prisoners faced lengthy journeys as male inmates were taken to jail first because reception areas in men's prisons have a fixed cut-off time.
In his report, Chief Inspector of Prisons Nick Hardwick said: "Women spent long periods in escort vehicles shared with men before arriving at the prison.
"Some vehicles did not have privacy screening, exposing women to the possibility of intimidation and abuse."
Juliet Lyon, director of the Prison Reform Trust, said: "In London and elsewhere, women are regularly dropped off last after long, gruelling journeys from prison to prison because prison escorts know that staff in women's prisons will stay late to receive vulnerable women entering custody."
She said staff in men's prisons shut the doors earlier.
She added: "Overall transport of livestock is better regulated than transportation of prisoners.
"It's time to call a halt to transporting women, many of whom have been victims of sexual abuse and domestic violence, with men in prison vans."
'Exceptional circumstances'
Frances Crook, chief executive of the charity the Howard League for Penal Reform, said: "On long journeys people are given plastic bags to pee into, pretty tricky in a moving vehicle for women."
In his report Mr Hardwick said there were few serious violent incidents at Holloway and the use of illegal drugs was relatively low.
But he said the jail, which can hold nearly 600 inmates, was a difficult prison to run because of its size and poor design.
Michael Spurr, chief executive of the National Offender Management Service, said: "Staff at Holloway deal with a really challenging population, including many vulnerable women with complex needs."
A Prison Service spokesman said: "Women and men are normally transported separately, but for operational reasons it is sometimes necessary for them to travel together.
"In exceptional circumstances when they are transported in vehicles without partitions, cases are individually considered and any potential risks are carefully managed."
A government-wide review of all contracts held by Serco, one of the country's biggest private providers of public services, is being conducted.