London 'unlikely' to make 2022 Commonwealth Games bid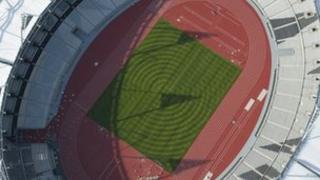 London is set to abandon plans to bid for the 2022 Commonwealth Games, the BBC has learned.
Mayor Boris Johnson is said to be worried the event could cost as much as £1bn and that the city could not afford it. He had previously backed the plans.
A final decision has not been made, but a source said a bid was "unlikely".
London plans to focus on staging major championships such as the Rugby World Cup in 2015, when the capital is hosting a third of the Games.
It will also focus on the World Athletics Championships in 2017.
The Commonwealth Games do not have the same global reach as the Olympic Games, which took place in London in 2012.
England last staged the Commonwealth Games in Manchester in 2002. Next year's Games are in Glasgow.
Olympic legacy bosses said in March they were "thinking hard" about making a bid for the event following the success of the Olympics and Paralympics.
A final decision has not been taken yet, but a source told BBC London: "I think it is very unlikely that London will bid now.
"The cost of securing so many venues is very high."
A spokeswoman from the mayor's office said: "It's not our bid so we haven't withdrawn our support from anything.
"All we can do is consider the implications for London."
Commonwealth Games England has declined to comment.
A spokesperson from the Commonwealth Games Federation said it would not invite expressions of interest for holding the event until next year, with bids being put forward in 2015.