East London segregated cycle superhighway opened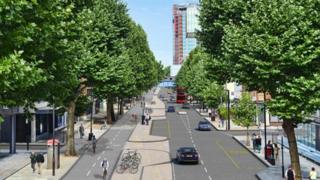 An extension of a cycle superhighway in east London has been officially opened, a day after a cyclist was killed on the route.
The route from Aldgate to Bow has been extended by nearly two miles into Stratford. The new section is segregated from traffic.
On Tuesday a 62-year-old cyclist was killed in a crash with a tipper truck on Mile End Road.
A new route, from Elephant and Castle to King's Cross, was also announced.
The new north-south route from Elephant and Castle to King's Cross will run through Blackfriars Road and Blackfriars Bridge.
At Blackfriars, it will meet with the east-west cycle superhighway from Barking to west London.
'Death trap'
The Bow to Stratford extension, which cyclists started using last week, is segregated from traffic, and includes redesigned bus stops to allow cyclists to pass buses more safely.
Transport for London said nine cyclists had died on London's roads so far this year, compared with 14 in 2012. Three deaths have occurred on the Barclays Cycle Superhighway 2.
Mike Cavenett, spokesman for London Cycling Campaign, said segregated lanes would mean cyclists do not have to cross several lanes of traffic.
"It's got a degree of safety and comfort. If you look at the inner section which goes from Aldgate to Bow it's literally a death trap," he said.
Revealing that further cycle superhighways are planned, Mayor Boris Johnson said: "If one cyclist dies that is one too many.
"It is too early to draw conclusions about what happened last night. The number of deaths on the roads broadly speaking has come down even though trips by bike are going up."
Earlier the mayor's Cycling Commissioner Andrew Gilligan said: "The old section [Aldgate to Bow] is going to be substantially upgraded and it's going to be fully or semi-segregated for the whole way.
"It's going to be a vastly improved route all the way."
The upgrades will include changes to Whitechapel High Street and the removal of the Aldgate gyratory near the tube station and turn it into a two-way street.
Brian Dorling, 58, from Hounslow, west London, died in October 2011 at Bow roundabout on one of the painted blue cycle lanes, while French student Philippine De Gerin-Ricard, 20, was killed on the route in Aldgate in July.
In October, a coroner said the mayor should do more to prevent deaths on cycle superhighways. A report into the deaths said the painted blue lanes were confusing and could lull riders into a false sense of security.
Mr Gilligan said the plans to upgrade the routes were under way before the report, but added: "You have to cycle safely at all times. We can't take responsibility for everyone's safety."