London cyclist's death must lead to change, her family says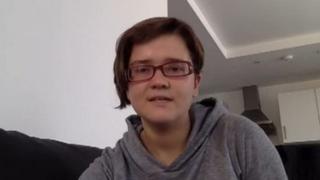 The family of a cyclist killed in London have said her death should be a catalyst for improving road safety.
Venera Minakhmetova died when she was struck by lorry at Bow Roundabout, on Wednesday.
The Russian, who had been on the Cycle Superhighway 2 (CS2) just before the collision, was the fourth of five cyclists to die in London in nine days.
In a letter, her sister Dina said: "Her death should be treated as a sign the time has come to try to change things."
'System isn't working'
Writing from Russia, Dina Minakhmetova said: "I didn't know about dangerous situation on London roads, but after understanding the entire picture of how many friends, sisters, brothers and sons/daughters were tragically lost in such accidents, I have to say that my sister is the person to stop such a tendency.
"She had a purpose to achieve something, so let's achieve all together the end of such tragic deaths by doing something, by letting know people around that the situation on the streets isn't to be ignored.... the system isn't working.
"Nevertheless, at the same time I should state that the cyclists should not forget about safety measures and common logic."
Mayor of London Boris Johnson has been urged to hold a safety summit following the deaths, by the Parliamentary Advisory Council for Transport Safety.
Executive director David Davies said: "The boom in cycling in London has many benefits and we support it but the tragic events of the past few days show that there is a need for urgent action.
"We must avoid knee-jerk reactions and measures that might be counterproductive," he added.
Speaking on LBC 97.3 Metropolitan Police commissioner Sir Bernard Hogan-Howe said large vehicles could be "killing machines" and both drivers and cyclists needed to consider how they use the road.
'Amazing person'
He said: "It is difficult for the drivers. They're big vehicles, they can't always see out properly but they've got to take a little bit more care.
"Equally, if you've got your own cycle, you've got to abide by the rules of the road and you've got to think about your own safety."
In the letter, Ms Minakhmetova's family added: "We are just proud of our Venera, about what an amazing person she was, applying herself everywhere, from arts (painting and playing piano) to investment banking.
"I believe that the best quality of her was her passion, her love of being alive and having an opportunity to improve everything around her."
Ms Minakhmetova had worked at London-based Edelau and investment bank Merrill Lynch and was living in the Bethnal Green area to develop her financial services business.
Awarded a full-scholarship to university in Russia, she had gone on to win the semi-final of Moscow Open, an international annual debating championship.