Body in well: Teenager's shock at finding body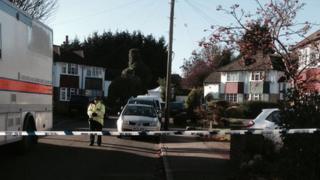 A teenage boy who found a man's body in a well at a home in south London has said he has found it difficult to sleep since finding it.
Jack Duncan, 17, found the body with his friend Rory Mulholland, 21, at the home in Audley Drive near Warlingham, on the Surrey border, on Friday.
He said it had been really hard to sleep knowing that he had found it.
Seven men aged between 21 and 27 were arrested on suspicion of murder but have since been released on bail.
They have been released until December, pending further inquiries.
'It had legs'
Police said the body was that of a white male although inquiries continue to try and establish the identity of the deceased.
An initial post-mortem examination did not prove conclusive in providing a cause of death and further tests will be carried out.
But police said the examination did reveal injuries to the body consistent with an assault.
Specialist police divers took several hours to retrieve the body from the water which is about 4ft deep (1.2m).
Mr Duncan and Mr Mulholland said they had been asked to tidy the well out.
Mr Duncan told BBC London News that when they cleared the roses and brambles out, they saw a slab over the top of the well.
"At first I thought the well was at ground level, I thought it was ornamental - I didn't think there was a drop in it," said Mr Mulholland.
"When we pulled up the slab we realised that there was a big drop and we saw a blue tarpaulin.
"At first we thought it was rubbish dumped, so we had a good look around and started moving it, and we slowly came to realise that it was in the shape of a body. It had legs."
'Shaken up'
Mr Duncan said: "It's been really hard to get back to sleep the last couple of nights knowing that you found a dead body. It's just been there, you don't know how long it's been there.
"I'm never going to look down a well again."
His friend added: "Any time anyone mentions it, it makes me feel a bit shaken inside. I've got butterflies.
"I'm worse today than I was yesterday. I'm just a bit shaken up."
Det Ch Insp Cliff Lyons, who is leading the investigation, said: "This is an unusual case and I would appeal for anybody who has concerns about a missing person, or who believes they may know something about this individual or incident, to call my officers.
"The post mortem examination has revealed this person, who we now know is a white male, suffered injuries before being placed into the well. We are treating the incident as a murder."
When asked at a press conference about claims by residents there had been trouble at the house in the past couple of years and police had been called on numerous occasions, Mr Lyons said: "The residents have expressed concern, there is intelligence to support that notion, yes."
He would not comment on who had lived in the house or if the body was intact.