HS2 plans 'threaten jobs' in Camden's markets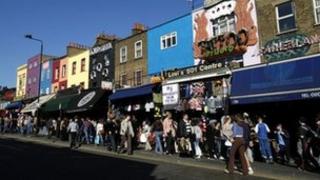 An area of north London could face up to 9,000 job losses if plans for the HS2 rail link are not changed, a business group has warned.
A report commissioned by Camden Town Unlimited (CTU) claims that the area could lose up to £631m.
Under current plans, HS2 will cut through Camden when its first London to Birmingham stage is completed in 2026.
The report says closing markets for periods could threaten jobs. HS2 said the findings were "scaremongering".
'Real threat'
The research, entitled "The HS2 impact on Camden's creative economy", also says that losses to markets could total about £91.8m, with the Stables Market expected to make losses of £39m, and Camden Lock and Hawley Markets losing £24m and £22m respectively.
Shutting down large parts of the markets for extended periods could lead to traders moving elsewhere and a fall in the number of tourists visiting the area, the report suggests.
Will Fulford, of Camden Lock Market, said traders could not afford to take a multimillion-pound hit.
"There is a real threat that the impact of this link will permanently threaten the market's future, causing devastation to our unique local economy that can never be mended," he said.
"Without the markets, Camden will lose some of the magic that has made it the creative hub of London."
HS2 will link Birmingham and London, with tracks to cities including Leeds and Manchester built in a second phase.
Ministers argue HS2 will boost the UK's economy and slash journey times to and from London. A recent report by KPMG suggested the new line could generate £15bn a year in "productivity gains" for the UK - with Greater London being one of the biggest beneficiaries.
CTU chief executive Simon Pitkeathley said: "We are committed to working with government and HS2 to make sure that any impact to Camden Town from the rail link is kept to an absolute minimum.
"The best way to do this is to put the link underground."
Ben Ruse, from HS2 Ltd, said parts of the report were "not true" as HS2 had never said it would close large sections of Camden markets.
"It is a shame that the findings of this report are nothing more than scaremongering - we are even working with Camden and the markets to ensure any associated HS2 works do not deter visitors," he said.
"Reports of this nature are damaging but we look forward to building relations with all parties, including stall holders in a measured, sensible and productive way."