Cannabis use in Brixton Prison led to guards' clothes smelling of the drug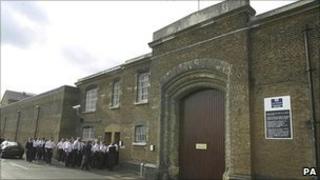 Cannabis use at Brixton Prison was so prevalent that guards' uniforms reeked of the drug, an official watchdog has said.
A report by the Independent Monitoring Board said the availability of the drug at the south London jail was a major problem.
It also said the use of drugs was leading to "gambling, indebtedness, bullying and intimidation."
The Prison Service said the jail had taken action to tackle the issue.
Robust punishment
The report said: "Cannabis was sometimes being smoked so much on A and B wings that officers' and monitoring board members' clothes smelt of it."
It added staff shortages have stopped "suspicion tests" being carried out on inmates and warned not enough was being done to stop prisoners on temporary release from bringing drugs into the prison on their return.
A Prison Service spokesman said: "We take the illicit use of drugs in prisons very seriously. HMP Brixton has taken swift action to tackle this issue and the number of prisoners testing positive for drug misuse has fallen.
"Offenders are well aware that anyone caught with prohibited items will face swift and robust punishment. This can include having days added to their custody, being transferred to a different prison and losing privileges."