Tycoon's estranged wife slams £20m settlement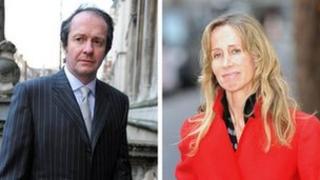 The estranged wife of a property tycoon, awarded £20m by the High Court, has called the payout "disgraceful".
Michelle Young, 49, insisted her husband Scot, 51, was worth "billions", but Mr Justice Moor assessed Mr Young to be worth £40m.
At a hearing in the Family Division of London's High Court, the judge said Mrs Young was entitled to half of her husband's fortune.
After the ruling, Mrs Young said: "It's disgraceful... he's worth billions."
"Many people will be watching this and think it's a fortune but at the moment all this order is is a piece of paper," she added.
The judge also ordered Mr Young to pay £5m of his estranged wife's £6.5m legal bill and said Mr Young's passport, which was seized by the court more than four years ago, should be returned.
Mr Young, who said he had a financial "meltdown" in 2006, refused to comment as he left court.
'Extraordinary' litigation
Mr Justice Moor said he knew Mrs Young would find it hard to enforce the order, but he said Mr Young would never be free of the debt.
The judge said the litigation, which started more than six years ago, had been "quite extraordinary" and that Mr Young had misled the court "very significantly" on his financial position.
"It is undoubtedly the most difficult financial remedy case I have ever come across," he said.
He added: "In many respects, this is about as bad an example of how not to litigate as any I have ever encountered."
The Youngs, who live in London and have two daughters, separated in 2006 after starting a relationship in 1989.
Mrs Young said the couple had lived a "luxury marriage" and that her husband would spend up to £5,000 in a restaurant. She also claimed that the couple would take three or four holidays abroad a year, often staying in villas and presidential suites.
Mrs Young, who had employed 13 sets of lawyers and four sets of accountants over the years, claimed that her husband had hidden "a vast fortune".
However, Mr Young said he was bankrupt, penniless and had debts adding up to £28m.
'Conspiracy everywhere'
In January, Mr Justice Moor imposed a six-month prison term on Mr Young after saying that he had failed to provide financial information to his wife ahead of the trial and was in contempt of court.
At the hearing today, Mr Justice Moor criticised the couple and said Mr Young was "hiding the truth" and was not "a penniless man of straw with huge debts".
He said Mrs Young's evidence had not been reliable and said she saw "conspiracy everywhere".
Mr Justice Moor added that he felt "nothing but sympathy" for the couple's two daughters who he said had seen their parents' divorce played out in the "full glare of the media".