'Extra moorings needed' on London waterways, says assembly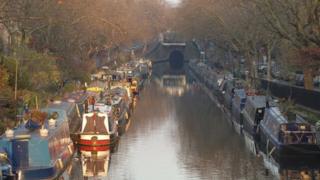 Further moorings are needed on London's waterways to help address overcrowding, a London Assembly report has concluded.
More Londoners are turning to live on the water, as it is seen as more affordable than other accommodation.
Yet the number of moorings and facilities, such as water supply and waste disposal, has not increased in line with demand, it said.
The Canal and River Trust said it welcomed the report, but said it would be "challenging" to make improvements.
Overcrowding 'hotspots'
Green Party London Assembly Member Jenny Jones, who led the work on behalf of the Environment Committee, said: "London's waterways are one of the hidden gems of our capital and they are becoming increasingly popular as a place for people to live or spend their leisure time.
"But it is not an easy life and boaters must be conscious of their responsibilities," she added.
"Also, the number of moorings has not kept up with demand.
"This is resulting in hotspots of overcrowding, which creates issues among boaters and for communities living nearby."
The report highlighted how in certain popular temporary moorings boats are sometimes moored up to four deep from the bank.
'Finite resource'
The report recommended:
The Canal and River Trust should look to increase moorings on London's canals
Planning authorities should ensure waterside developments do not detract from waterway usage, including residential moorings.
Future amendments to the London Plan should include a policy to increase moorings.
In a statement, the Canal and River Trust said waterways were a "finite resource" and suffered the "same issues of congestion as other parts of the city".
It said: "We believe the report's recommendations for increases in moorings and enhanced facilities will be challenging to deliver in light of this congestion and the limited opportunities available within London, however we welcome the opportunity to work with local planning authorities, GLA [Greater London Authority] and others to find the right solutions for the canals and the many people who use and enjoy them."
London has more than 100 miles (161km) of canals and the report estimates that about 10,000 people could now be living on these.