Brentford Football Club given Lionel Road stadium go-ahead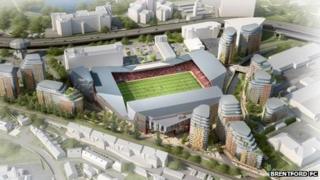 Brentford Football Club is set to move after its plans for a 20,000-seater stadium were approved.
The scheme, which includes up to 910 residential apartments and would be on a site between Kew Bridge railway station and the M4, was approved by Hounslow Council on Thursday night.
The Bees hope to move to the 7.6 acre site on Lionel Road from Griffin Park for the 2016-17 season.
It will now be subject to referral to the mayor of London and the government.
'Vibrant new stadium'
Cliff Crown, chairman of Brentford FC, said: "This is a once in a generation chance to create a vibrant new stadium and adds to the buzz that is going on around Brentford.
"Brentford is on the up as a destination, with new homes, retail, sports and leisure facilities which bring new jobs to the area. Brentford Football Club will be returning close to where it was founded in 1889."
Objections were raised at the meeting that the stadium could affect the view from Kew Gardens. There were also concerns about the scale of the flats and lack of public transport.
Matthew Benham, the League One club's owner, has agreed to underwrite a funding gap in order for the scheme to go ahead.
Brentford, who have played their home games at the 12,763-capacity Griffin Park since 1904, had an average league attendance of 6,302 last season.
The meeting heard the club was losing £5m a year at its current site and was told the site on Lionel Road was the best site for a stadium in the borough.
Chief executive Mark Devlin said he hoped the move would see the Bees attract new supporters.
Brentford supporters have written letters and postcards to the council in support of the application but objections have been voiced by several parties, including some local residents and the Royal Botanic Gardens at Kew.