Four guilty of Wandsworth party murder of Peter Hagan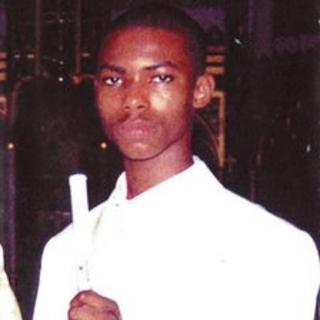 Four men have been found guilty of the murder of a 16-year-old college student who was stabbed at a birthday party in a house in south-west London.
Peter Hagan, 16, was found with fatal injuries at Albion House, in Neville Gill Close, Wandsworth, on 17 February.
Peter, of Brixton, bled to death in the stairwell of the block after being "viciously assaulted", police said.
Romell Martin, 22, brothers Jamaal, 23, and Malki Ferguson, 22, and Dean Harmes, 27, were convicted of murder.
Malki and Jamaal Ferguson were among the guests at their sister's birthday party in Albion House, where they were joined by Martin and Harmes, police said.
Peter, of Hilda Lockert Walk, arrived at the party with a group of friends in the early hours and subsequently an argument broke out between both the groups.
CS spray was discharged during the row before the 16-year-old was stabbed, kicked and struck with a bottle, the Metropolitan Police said.
The stab wound to his left leg had severed an artery, leading to Peter's death.
Martin, of Fairgreen Road, Thornton Heath, the Fergusons, both from Albion House, Neville Gill Close and Dean Harmes, of Wentworth Court, Garrett Lane, will be sentenced on Wednesday.
Det Insp Simon Pickford said: "The level of violence used was extreme and there was little or no provocation to spark the violence.
"These four men attended a teenager's birthday party and whilst there armed themselves with an array of weapons including a knife, CS spray and a hammer.
"They were clearly prepared to kill or seriously injure anyone who crossed them. This has been a brutal and shocking case."