Mark Duggan inquest: Jury given majority direction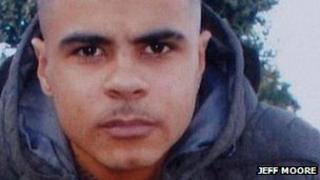 The jury at the inquest into the killing of Mark Duggan has been told by the judge that a majority conclusion would be acceptable.
The 29-year-old was shot dead by armed police in August 2011 in north London.
The jury had previously been told it should reach a unanimous conclusion.
Judge Keith Cutler said the law "allows me to accept a majority decision on any of the determinations or the conclusion of which at least eight out of the 10 of you are agreed".
Judge Cutler previously told the jurors they could decide if Mr Duggan was shot lawfully or unlawfully, or return an open determination.
His death sparked riots in Tottenham which then spread to a number of cities across England.
The inquest, at the Royal Courts of Justice in Westminster, began in September and aimed to find the truth about Mr Duggan's death.