London cycle network map published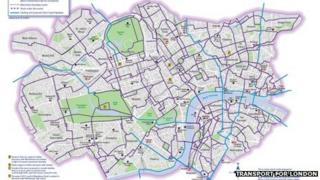 A draft cycle network map which will run parallel to London Underground lines has been published.
The Central London Grid covers seven London boroughs and features "cycle streets" which will be closed to other traffic, as well as routes named after Tube lines.
The map aims to encourage less-confident cyclists deterred by busy roads to cycle more often.
The Mayor of London said he hoped the routes would "de-Lycrafy the bicycle".
Boris Johnson said: "These are your secret cycling passages through London, taking you everywhere you need to go, directly and easily, using routes you might never know existed until we showed you.
"The Central London Grid will, I hope, de-Lycrafy the bicycle, reduce the testosterone levels of cycling, and move towards a continental-style cycling culture, where cycling is normal."
The proposed routes cover all of the City of London and Westminster and parts of Kensington and Chelsea, Lambeth, Southwark, Hackney, Islington and Camden. There are also paths through four of the Royal Parks.
'Quietways' routes
The map has been developed by seven central London boroughs, the Royal Parks, the Canal & River Trust and Transport for London (TfL).
The proposals include 60 miles (97 km) of backstreet "Quietways" routes which will be slower routes on low-traffic side streets, including a "Circle Line Quietway" and a "Victoria Line Quietway".
Some existing Cycle Superhighways will be part of the grid and some one-way streets will also be made into two-way lanes for cyclists.
The first routes will open next year and at least half the network should be completed by 2016. The public can give their feedback on the routes on the TfL website until 14 February.
Earlier cyclists staged a "die in" protest in central London to raise awareness of cycle safety in the capital.
The demonstration was organised by the group Stop Killing Cyclists, which is calling for improvements to be made to cycling infrastructure and a ban on HGV lorries with blind spots.
A group of cyclists lay on the ground in Vauxhall as musicians played, and a short rally was held.
"Die-ins" were staged during the 1970s in the Netherlands, prompting a cycling revolution.
In November six cyclists died on London's roads in a period of two weeks, bringing the total number of cyclists killed in 2013 to 14.