MPs urge police probe into teen killed in Malia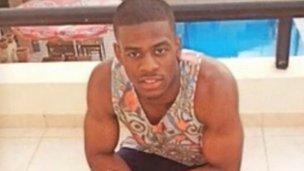 MPs have urged British police to investigate the death of a teenager who was stabbed to death in a bar brawl in Crete.
Tyrell Matthews-Burton, 19, from Leyton, east London, was killed outside a bar in Malia in July in a fight which involved up to 30 British people.
Myles Litchmore-Dunbar, from east London, has been charged with murder.
Labour's Heidi Alexander said there were "serious concerns" about the Greek authorities' handling of the case.
Ms Alexander told the Commons Mr Litchmore-Dunbar's family, who live in her Lewisham East constituency, believe the support provided to them by the British Government has been "wholly inadequate".
Mr Litchmore-Dunbar, who is in a Greek prison awaiting trial, denies murdering the teenager.
Ms Alexander also told MPs British police should rethink their involvement in the case.
Clothing worn by Mr Matthews-Burton on the night of his death has been sent back to his family in the UK, she said.
She continued: "I am at a loss to understand why this clothing would not be retained in Greece as evidence and I am concerned that this suggests the Greek authorities may be failing to deal with this matter appropriately."
Labour MP Stella Creasy, who represents Mr Matthews-Burton's family, said measures were in place to ensure the British authorities could seek to bring the case to the UK for trial.
"The Foreign Office tell me... that 'because we don't know the quality of the Greek investigation' they have decided they cannot tell whether it would be appropriate to ask the Met to get involved," she said.
"What confidence can we then have that justice will be done?"
She added a senior investigating officer was only appointed to the case after intervention from the Prime Minister.
Foreign Office Minister Hugo Swire said British police could not have got involved in the case as it happened on foreign soil.
"Even in cases where a suspect is British, the jurisdiction of the country where the crime took place takes precedence," he said.
Mr Swire added the victim's mother had secured access to a Greek lawyer and some legal funding from Victim Support following a meeting with Ms Creasy and the Prime Minister.
Ms Creasy has asked the Foreign Office to ensure the charity has funds to provide full financial assistance for legal representation in the trial to Mr Matthews-Burton's family.
The Metropolitan Police said it has a family liaison officer who is supporting the victim's family, but could not become involved in the case without an official request from the Greek authorities.
Related Internet Links
The BBC is not responsible for the content of external sites.