Leicester Square Odeon's O 'gone with the wind' after storm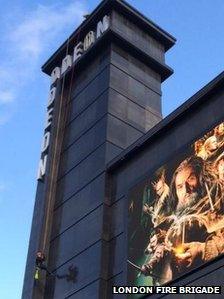 An 'O' in the Odeon cinema's sign in London's Leicester Square was left in a precarious position after strong winds battered the building's tower.
Firefighters had to abseil down the central London building to remove the five foot by four foot giant aluminium letter - the second O in the name.
London Fire Brigade was called at about 10:20 and the sign was safely removed by the team from Soho before 13:00 GMT.
No-one was hurt in the incident which took place in a busy tourist area.
Following the operation Odeon Cinemas tweeted: "Thanks @LondonFire for your help with our 'O' today, you are our herO's! The 'O' will be replaced in ODEON Leicester Square soon."
The cinema, which has been located at its current site since 1937, remains open, the company said.
A statement from Odeon said: "One of the 'O's outside our flagship Leicester Square site became wobbly and thanks to the help of the brilliant London Fire Service has now been safely removed.
"It will be replaced within the next few days. Until then we are operating as ODEN Leicester Square - the cinema is not affected and all screens are open as normal."
Related Internet Links
The BBC is not responsible for the content of external sites.