Peckham car chase: Six officers injured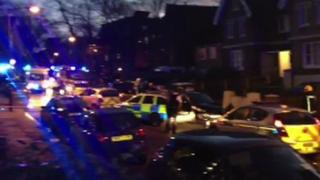 Six police officers were injured when they were hit by a car driven by a man trying to evade them.
The Met said officers noticed a black BMW was being driven suspiciously in East Dulwich Road, Peckham, at 16:20 GMT on Thursday, and tried to stop him.
The driver then sped off along St Mary's Road, followed by officers.
As he tried to get away, he reversed into a member of the public's car who noticed what was happening and drove to block the road, preventing an escape.
Officers then got out of the patrol car and tried to stop the driver. The BMW then hit two officers before it was boxed in by a second member of the public's car.
The driver was arrested at the scene on suspicion of attempted murder. He remains in custody at a south London police station.
One of the officers who was hit, a male PC from Southwark Borough, sustained a leg injury, while the other officer was not seriously injured but did attend hospital as a precaution.
Four other officers required medical treatment for minor injuries.