£100,000 painting stolen from Kensington home in scam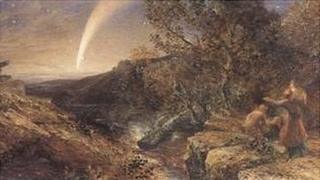 A £100,000 painting, items of jewellery and bank cards have been stolen from the London home of an 89-year-old woman.
A telephone caller told the victim her bank cards had been used in a crime and advised her to call her bank.
But he did not hang up and she was then told someone would come on Saturday and collect her cards and valuable items.
A man came to her South Kensington home and took the painting, 'The Comet of 1858' by Samuel Palmer, and jewellery.
The victim has described the man as being in his 30s, about 5ft 10in tall, with dark hair and an English accent.
A Met spokesman said: "Neither your bank nor the police would ever ring you and state that they are coming to your home to pick up your card, so never hand it over to anyone who comes to collect it."