Orpington double rapist jailed for life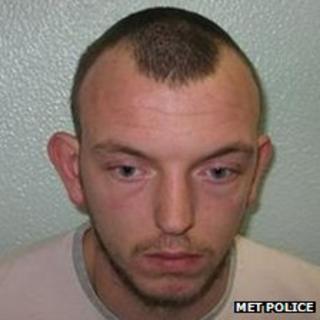 A man who went on to rape a second woman in south-east London after mistakes by the Met Police led to his release has been jailed for life.
James Steve Isted, 27, was first held on suspicion of rape after an attack on the first victim in September 2011.
He raped the second victim in May 2013 in the same place, in the grounds of All Saints Church in Orpington.
Isted, who was convicted of two counts of rape, was sentenced to a minimum of nine years at Croydon Crown Court.
'May have been prevented'
Following his conviction in December, the Met apologised to his second victim and acknowledged it had "made mistakes" - although the force refused to say what those errors were because an internal inquiry is taking place.
"Had certain actions been taken earlier, a second offence may have been prevented," a statement said.
Isted, of Tintagel Road, Orpington, was first arrested on suspicion of rape in October 2011 after a 17-year-old was attacked, police said.
But in August 2012 he was told he was no longer on police bail due to a lack of evidence against him, although the inquiry would continue.
In May 2013 he raped his second victim, a 27-year-old woman.
In the first attack, the victim was hit over the back of her head and dragged into the graveyard of nearby All Saints Church. She was also robbed.
The second victim was approached from behind and threatened with a knife before she was raped, also in the grounds of the church. She too was robbed.
Isted, who was also convicted of two counts of robbery and one of assaulting a police officer, will have his case assessed after he serves the minimum tariff.