Jordan Horner given Asbo for 'religious extremism'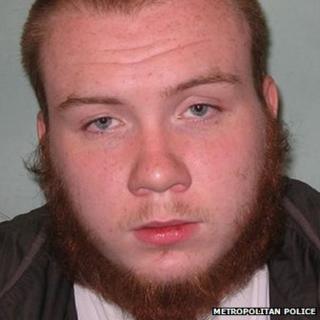 A man from east London has been given a "landmark" Asbo for spreading extremist religious views, the Met Police said.
Jordan Horner, 20, of Walthamstow, has been linked to extreme religious groups and taken part in vigilante patrols and street protests promoting extreme versions of Islam, police said.
Restrictions were placed on him at the Old Bailey for five years.
Waltham Forest Police said it sent a "clear message" and officers added it was a "landmark case".
The conditions of his Asbo include not being in possession of a loudhailer in a public place.
He is also forbidden from being in public with four named men for any purpose other than peaceful worship.
They include radical Islamist preacher Anjem Choudary and Royal Barnes, who this week admitted posting videos on YouTube glorifying the killing of Fusilier Lee Rigby.
He is also restricted from entering educational establishments and forbidden from promoting Sharia law, distributing unsolicited material and damaging public adverts.
Asbos, first introduced across England, Scotland and Wales in 1998 to tackle anti-social behaviour, can prohibit actions which are not in themselves criminal but can be viewed as a prelude to a crime.