Fight begins for the future of the London Underground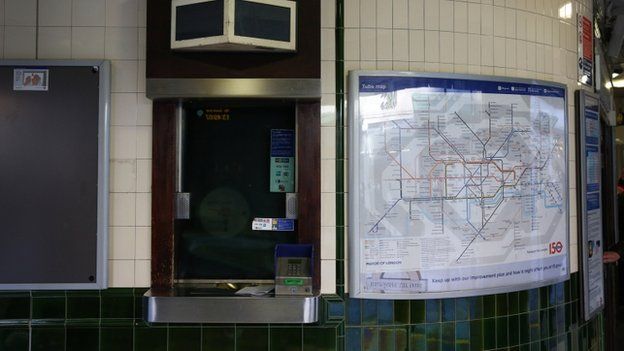 Station staff are the lifeblood of the London Underground (LU).
When you are four-deep on a platform trying to get onto a packed Tube train it is reassuring to hear that voice over the public-address system.
They excelled at the 2012 London Olympics and they have had to deal with dreadful circumstances like the 7/7 bombings in 2005.
But if you strip out the unions and poor industrial relations then you find some employees are genuinely scared about their future. The strikes may have been suspended but those issues haven't changed.
Staff have told me they think this dispute is really about redeployment - the moving of roles from quieter outer London stations into town and increasing staff flexibility.
Another said it was about cutting the wage bill, one said it was just about restructuring and trying to get cheaper staff.
At the moment most staff behind ticket offices are what are called Station Assistant Multi-Functional (SAMF). There are 1,205 of them on an average wage, according to LU, of £35,000.
With the changes - subject to consultation - they can apply for a new position of Customer Service Supervisor (CSS) with a salary of £42,000.
That would be nice, you'd think, but there are only 660 CSS positions.
The RMT claims another 1,176 people from other grades will also be competing for those 660 jobs. LU says it won't be that many and also with voluntary redundancies the number will be much lower.
But even without the exact figure, hundreds of staff will drop down to Customer Service Agent (CSA) grade with a salary of £29,000 and that won't necessarily be good for staff morale.
The agreement is their pay won't drop for three years, but then what?
LU sent me this statement: "The changes in staff development will mean we have more staff rostered to work in public areas of stations, including platforms than we have today.
"We are committed not to make any compulsory redundancies and there will be a job for every employee who wants to stay and is willing to be flexible. There will remain around 5,000 staff working on public areas of stations - a level of staffing way beyond that which exists elsewhere on the country's rail network.
"The proposed staffing changes would mean some existing staff applying for the new roles.
"We will provide full support to our staff who are unsuccessful in these applications, including a three year protection of earnings. During the three years of protection of earnings, staff would be able to apply for and obtain suitable roles within London Underground that pay a higher salary.
"They would also have three years of annual pay awards within that time. Our proposals also include voluntary severance for a proportion of our staff. This means that, in reality, few staff will experience a loss of earnings. "
Staff will want lots of reassurance on that specific point about what "few" means. They'll also want reassurance about other proposals including the safety of lone workers.
LU says how commuters buy tickets has changed and, with Oyster and the dawn of bankcard payments, fewer journeys involve a ticket office.
Poor industrial relations
There will be actually still be ticket offices (called Visitor Information Centres) at Euston, Kings Cross, Liverpool Street and Paddington.
There is a chance a few ticket offices will be saved during the consultation process. There will also be new ticketing machines.
LU said it deliberately started this process earlier than usual to engage with the unions. It has published a list of 15 meetings where it's claimed the trade unions were invited but felt either unable to discuss the process or were felt they unable to attend.
Without any union engagement, LU started trawling for voluntary redundancies. I'm sure LU knew what would probably happen when they did that.
No prior meetings and poor industrial relations meant the distrust could not be rebuilt in the timescale.
Now the strikes have been suspended we are just at the beginning.
Related Internet Links
The BBC is not responsible for the content of external sites.