Arsenal unveil Dennis Bergkamp statue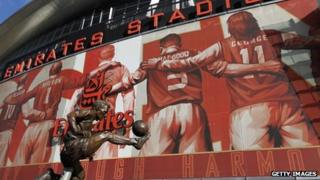 A bronze statue of ex-Arsenal footballer Dennis Bergkamp has been unveiled at the Emirates to mark his contribution to the club.
Hundreds of Arsenal supporters turned out to welcome the 44-year-old as he was honoured with a permanent tribute outside the Clock End on Saturday.
The Holland forward joined Arsenal in June 1995, playing in more than 400 games and scoring 120 goals.
Bergkamp praised his former teammates saying the whole team "made me shine".
'Beautiful statue'
"All this makes you realise how many good years we had here and how big this club has become over the last 20 years. I was just happy to play a role in that," he said.
"You all see me as a team player, and there is only one statue of me, but I believe it is part of a whole team that I was involved in which made me shine."
He also thanked his family and praised the fans saying: "Because you had belief in me, in the team, so this is how it ends with a beautiful statue."
The Dutchman helped the Gunners win seven major trophies, including the "Invincibles" Premier League campaign of 2003-04.
Bergkamp, who is now the assistant manager at Dutch club Ajax, admitted he would like to return to Arsenal at some point in the future.
He also said that Arsenal manager's Arsene Wenger's current squad were "stronger than the last seasons".
"They can challenge for the title, but the upcoming weeks are very important for them," Bergkamp said.
Club director Ken Friar unveiled the statue ahead of Arsenal's match against Sunderland at the Emirates later.
Arsenal legends including former manager Herbert Chapman, captain Tony Adams and club-record goalscorer Thierry Henry also have statues at the club's grounds.