Damages awarded over mother-of-six's Caesarean death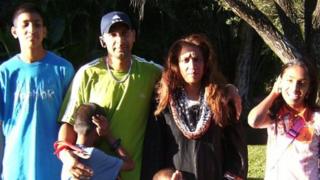 The family of a woman who died after giving birth to twins by Caesarean section have been awarded undisclosed damages at the High Court.
Mother-of-six Rosida Etwaree, 45, died of a cardiac arrest after haemorrhaging at south London's Mayday Hospital in 2010, now Croydon University Hospital.
The family's solicitors said doctors had failed "in the most basic of medical care" for Mrs Etwaree.
Croydon Health Services NHS Trust admitted liability.
Police are investigating after the case was referred by a coroner.
Louise Forsyth, from Irwin Mitchell solicitors, representing Mrs Etwaree's family said: "Qualified doctors did not take care of this patient. They did not meet a reasonable standard of care."
"They did not instigate policies that were already in place for this very reason.," she added.
"They failed in the most basic of medical care for Ms Etwaree, which resulted in her death."
'Never, ever event'
Ahumed Etwaree, 42, who worked as a forklift truck driver before caring for his children full time, said: "I will never forget witnessing my wife suffer in such a horrendous way.
"I begged the doctors and nurses to help her but they made me feel that I was panicking over nothing and that they had everything under control.
"Apologies for mistakes being made are welcome but they mean nothing without everything possible being done to prevent the same errors happening time and time again."
Mrs Etwaree's death was one of three in the maternity unit in two months.
Mr Etwaree said an official apology he received in 2012 confirmed his wife died of a so-called "never, ever event", described as "unacceptable and eminently preventable".
A spokesman for Croydon Health Services NHS Trust said it "deeply regrets" the events that led to Mrs Etwaree's death and hoped the settlement would help in meeting the family's future needs.
A spokesman for the Crown Prosecution Service said: "We are providing early investigative advice to the Metropolitan Police in relation to their investigation into the death of Rosida Etwaree in 2010 following a referral from the coroner overseeing the related inquest.
"The investigation is ongoing and the matter remains with the police at this stage."