London road junctions to be redesigned announced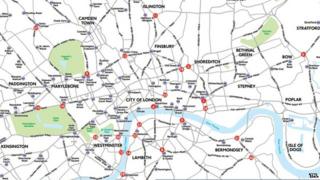 Thirty-three junctions where more than 250 cyclists and pedestrians have been seriously injured or killed in the last three years are to have £300m spent on them.
The £640m Mayor's Cycling Vision first outlined intended improvements.
A map published today identifies the intersections, which include the gyratories at Archway, Aldgate, Swiss Cottage and Wandsworth.
The Green Party called for "action, not just plans".
Transport for London (TfL) said detailed designs for the first schemes will be published next month and work will begin in the second half of the year.
Worked 'flat out'
Boris Johnson said the old junctions were "relics of the Sixties" were "atrociously designed and wasteful of space".
Leon Daniels, a TfL managing director said designers and engineers had worked "flat out" to develop the new junction designs which will include two-way roads, segregated cycle tracks and new traffic-free public space.
British Cycling, the national governing body for cycling, welcomed the plans saying "cycle proofing" all transport schemes was one of its central calls in its #ChooseCycling campaign.
But Darren Johnson, London Assembly Green Party Member, said: "We need to get rid of these blights on London and then find the money to deal with the dozens of other dangerous junctions that Transport for London identified as casualty hotspots."
One cycling safety campaigner, Mark Treasure, tweeted: "This has been in the offing for some time, details awaited."