PC Keith Blakelock colleague relives 'terrifying' riot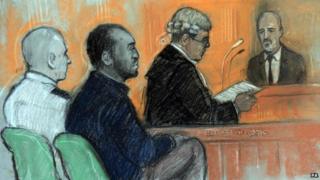 The sergeant in charge of PC Keith Blakelock's unit has told the Old Bailey of the "absolutely terrifying" moment they were attacked by a mob.
David Pengelly said his team of 10 officers were attacked by youths armed with iron bars and a machete.
Nicholas Jacobs, 45, denies murdering PC Blakelock during the Broadwater Farm riots in Tottenham in 1985.
The court had earlier been told that a rap written by the defendant about the attack, was found in his jail cell.
Richard Whittam, prosecuting, said the poem, found when Mr Jacobs was serving a prison sentence for affray at a youth custody centre in 1988, included phrases such "we have intention to kill an police officer" and "we chop him all over".
The court heard that Mr Pengelly and his team, serial 502, were trying to protect firefighters tackling a blaze at a supermarket on an upper deck of the estate.
He said his team were not "shield trained" at the time, but had kitted themselves out in fire-protective boiler suits, visors and long and round shields before going to the scene, which he described as one of "considerable rioting".
Mr Pengelly said he saw some youths were beginning to gather so he raised his visor to shout at the crowd that they were just there to "protect the firemen".
He said: "There was something perhaps of a dramatic pause. I do not know the reason.
"Then another group appeared slightly to the right from an unknown point to me."
Some of the youths then started to run around to "effectively outflank us and cut off our retreat", he said.
The officer told the jury that at that point he gave the order to retreat down the stairs to the ground level.
"Obviously at this point, the rioters were right with us hammering on the shields. It was an absolutely terrifying scenario.
"As we retreated down the stairway there were people with iron bars and at least one with a machete, effectively trying to chop the shields to bits.
"The retreat to ground level was just a continuing nightmare."
At the mid-point, Mr Pengelly said he almost immediately "lost track" of where the other officers were because it was dark.
He added that he saw a group of people in a "cluster or circle" at the grass verge on the ground level, facing inwards and attacking someone.
At first he thought it was one of the firefighters, he told jurors.
"I ran across shouting and once I reached the group that was still facing inwards, I was trying to hit somebody across the head with my truncheon on the left hand side, then I lashed out and hit somebody else on my right hand side and at that time the group sort of broke up and dissolved."
He then realised that the man who had been surrounded was one of his officers, he told the court.
"At this time we were fighting for our lives really. There was no time to do anything else, having scattered that group, than to turn and fend off other people from the main direction from which they had been running," he said.
Machete
Mr Pengelly said he did try to make his way towards where the attack was taking place, but could not do it on his own.
"Very quickly I was joined by two other officers so I was able to try and fend off other rioters whilst they dragged my colleague away."
He then lost his footing as he was "going backwards, trying to fight people off but there were possibly hundreds running around".
"I had already seen someone with a machete and I knew that if I didn't get up quickly, I wouldn't be getting up again."
When asked under cross-examination if his perception was affected by his fear for his life, Mr Pengelly said: "Terrified, I think was the correct description."
Another officer caught up in the violence, PC Stephen Martin, also gave evidence.
He described Mr Pengelly's attempt to appease the rioters before the officers tried to retreat.
On ground level, Mr Martin saw two different groups attacking PC Blakelock and another officer, PC Richard Coombes.
"They too had implements in their hands which they would raise up and bring down and I knew what was happening," he said.
The trial continues.