Criticism over raw sewage dumped in stations by trains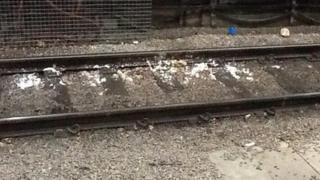 Train companies have been criticised for dumping toilet waste on the tracks at some of London's mainline stations.
The effluent has been dumped at King's Cross, Paddington and Liverpool Street.
Modern trains are fitted with toilet tanks, which are pumped out at the depot when they become full, but older rolling stock does not have this.
Unions say it is a health risk and companies should fit older trains with the tanks. The firms say the number of trains where it happens is decreasing.
Since 1996, all new trains have had tanks fitted.
'Unpleasant'
Bob Crow, the leader of the RMT union, said: "I think it's absolutely scandalous. No other part of society would allow for raw sewage to be thrown over the track where our members have to work.
"All this raw sewage could be stopped if the train companies invested in a proper sewage system [to] take the sewage off the trains before the trains come in."
In a statement, the Department for Transport, said: "While the fitting of sewage tanks on trains is an operational matter for train operators, we are investing heavily in new rolling stock across the entire network."
Seb Gordon, from the Rail Delivery Group, said: "We understand this is a pretty unpleasant issue and we are committed to spending billions of pounds on new trains to reduce the number of carriages where this is an issue."