Judge to probe Mayor of London's gay bus ad ban emails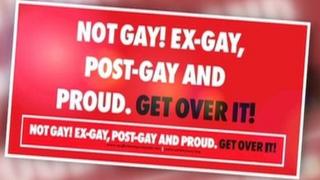 A judge has ordered that emails related to the banning of a London bus advert suggesting people could "get over" homosexuality should be disclosed.
Mrs Justice Lang has launched a new investigation into whether London's mayor improperly used his authority to block a Christian group's advert.
The probe was ordered by the Court of Appeal after it said an earlier ruling on the issue was flawed.
Boris Johnson could now be called to the High Court to give evidence.
'Get over it'
The Christian charity, Core Issues Trust (CIT), had produced the posters which stated: "Not Gay! Ex-Gay, Post-Gay and Proud. Get over it!" in response to adverts by gay rights group Stonewall, which said: "Some people are gay. Get over it!".
CIT accused the mayor of blocking it to win the gay vote when he stood for re-election in 2012.
On Wednesday, Mrs Justice Lang said: "I do have concerns about the lack of full disclosure by Transport for London (TfL) and the lack of candour about the decision to bar the advertisement.
"I am still not satisfied the full story has been told."
The new investigation was ordered by Lord Dyson, the Master of the Rolls, and two other Court of Appeal judges.
Internal email
The appeal judges have upheld Mrs Justice Lang's decision that TfL had the legal right to ban the advertisement on the grounds that it was likely to cause offence, but they were concerned that emails had emerged which were not seen by the High Court judge.
The appeal judges were shown an internal email from Guto Harri, Mr Johnson's media chief, which was not seen by the High Court, the email said: "Boris has just instructed TfL to pull the adverts and I've briefed the Guardian, who will break that news in next half hour."
Last March, Mrs Justice Lang ruled, on the evidence before her, that the decision to ban the adverts had been taken "solely" by Vernon Everitt, TfL's managing director of marketing and communications.