Southbank 'skatepark' court challenge deferred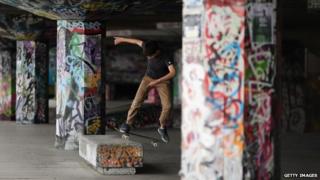 The latest legal battle to save the "skatepark" on London's Southbank has been deferred.
Campaigners have asked the High Court to grant the Undercroft under the South Bank Centre's Queen Elizabeth Hall village green status.
Long Live Southbank wants the area protected so it cannot be moved as part of the centre's redevelopment.
Mrs Justice Lang has delayed proceedings to ask the government to explain village greens legislation.
The campaigners are appealing against Lambeth Council's decision to refuse granting the status to the park because it argued it could not be retrospectively awarded once an area had been marked for redevelopment.
But Long Live Southbank has questioned this, saying the area along the South Bank in general was marked for development, rather than specifically the Undercroft itself.
The court has now postponed the hearing so that the government can explain the specifics of its Growth and Infrastructure Act 2013, which covers village green status.
The site is under threat because of the proposed commercial £120m redevelopment of the South Bank Centre, involving 4,200 sq m of new retail, cafe, restaurant, bar and takeaway floorspace.
The Southbank Centre has pledged £1m for an alternative skate site 120m (400ft) away under Hungerford Bridge.
The area is not technically a skatepark, as it was not designed for skateboarding, but is a space which was found by skaters and adopted as a skate spot.