Leytonstone car stabbings: Twelfth person arrested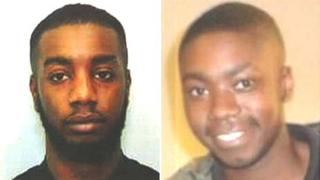 A 12th person has been arrested over the murder of two men who were found fatally wounded in a car in east London earlier this month.
The 19-year-old man was arrested on Saturday on suspicion of murder.
Aaron Carriere, 21, and Josiah Manful, 20, were both repeatedly stabbed after their black Ford Fiesta was stopped in Montague Road, Leytonstone on 1 March.
The arrest comes as officers were at the scene and the surrounding area overnight appealing for witnesses.
They believe a further four cars were at the scene at the time of the attack, which saw Mr Carriere stabbed in the neck and Mr Manful sustain fatal knife wounds to the chest.
Det Ch Insp Neil Attewell said: "One week on from the double murder we are keen to hear from anyone who may have seen the attack or the events leading up to the murders.
"We have made a number of arrests but we still require the help and assistance of those in the local community who have any knowledge as to why Aaron and Josiah were brutally targeted.
"Someone knows the reason why these two young men murdered and I am urging those who hold the information not to remain silent but to come forward."