Aircraft noise summit to be held in London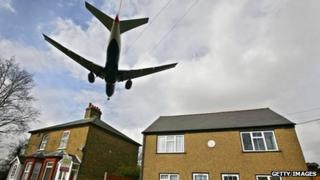 Airport bosses are joining campaigners for an aircraft noise summit.
Representatives from Gatwick Airport, Heathrow and the Heathrow Association for the Control of Aircraft Noise (Hacan), are due to speak at the event.
The mayor of London's aviation adviser Daniel Moylan and Philip Graham, from the Airports Commission, are also attending the talks at City Hall.
The summit is being held in London to discuss solutions to the issue of aircraft noise.
'Golden opportunity'
Business group London First, the Let Britain Fly campaign group and Hacan have organised the event.
Let Britain Fly director Gavin Hayes said the government had a "golden opportunity" to ensure aircraft noise was managed more effectively and called for the creation of an aircraft noise ombudsman role to tackle noise issues.
Heathrow anti-noise campaigner John Stewart, who chairs the residents' group Hacan, said the summit would be the first time organisations from all spectrums would be able to debate aircraft noise.
"That debate has for many years been challenging, complex and, regrettably, fraught," Mr Stewart said.
"We believe that the time has come for a fresh start to efforts to break the deadlock."