Slovakian identified as killed Crossrail worker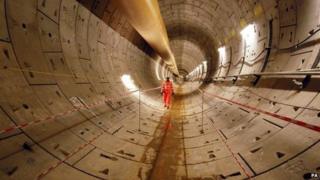 Police have identified a Crossrail construction worker who died after a piece of concrete fell on to his head.
He is Rene Tkacik, a 43-year-old Slovakian national.
He was spraying concrete 32ft (10m) down in a tunnel in Holborn, central London, in the early hours, when he was killed on 7 March.
A post-mortem examination took place on Monday. More tests have been requested, said police.
The rail route due to run from Maidenhead in the west, to Shenfield in the east via central London is one of Europe's largest engineering projects.