Met Police strip-searched 4,600 children over five years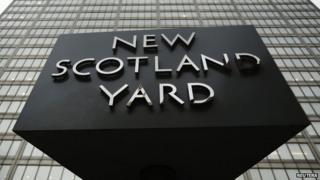 More than 4,600 children have been strip-searched by the Metropolitan Police over the last five years, according to figures.
The 4,638 children aged between 10 and 16 were dealt with between April 2008 and the end of 2013, being asked to remove clothes before being searched.
About a third of them were then released without charge.
The Met said a recent inspection found the use of strip-search to be "proportionate and appropriate".
It has not given details of why these searches were carried out, although the procedure is used for evidence-gathering.
'Safety and security'
The figures obtained by the The Guardian newspaper under the Freedom of Information Act also show that Met officers strip-searched about 134,000 people between 2009 and 2014. Of these, 10.5% were females and 3.5% were children.
A strip-search involves a suspect being required to remove some or all of their clothing and police can also require searches of body cavities, including intimate areas.
In a statement the Met said there had been an 18% drop in the number of strip-searches of juveniles since a peak in 2010. It denied that such searches of children had become "routine".
The Met said regular inspections of its custody suites and records were carried out by Her Majesty's Inspectorate of Constabularies and Prisons, which found the use of strip- search to be "proportionate and appropriate".
A spokesman said: "Strip-searching is a vital power in police custody, not only to identify and seize evidence, but also to ensure the safety and security of all detainees and staff."