Dogs die after poisoning at London's Fryent Country Park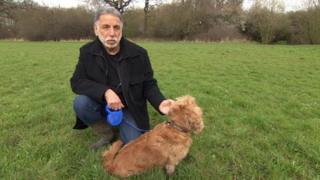 Three dogs have died and three more required treatment after being poisoned at or near to a north-west London park, the Metropolitan Police have said.
Two bull lurchers and a springer spaniel died after ingesting poison in or near Fryent Country Park in Brent, north-west London, police said.
The RSPCA warned that the dogs would have experienced "a great deal of suffering".
The Met described the incidents as "nasty".
The first poisoning happened on 21 January when a dog died after eating blue tablets near a lay-by on Fryent Way, inside the park.
On Thursday, three dogs ate poisoned meat that was left on a grass verge in Salmon Street, just outside the southern entrance to the park.
One of the dogs died while two others survived after receiving treatment from vets.
The next day two more dogs ate poisoned meat that had been placed in the undergrowth on the same street. One died and the other survived.
RSPCA chief inspector Simon Osborne said: "We are very concerned to hear these reports. Poisoning is a cruel and inhumane way for an animal to die and one which would have caused these dogs a great deal of suffering."
Sgt Peter Rowntree said: "This is such a nasty, cruel act which has killed three beloved dogs and endangered all domestic pets and wild animals, in such close proximity to a country park."