Met publicly apologise over 1985 shooting of mother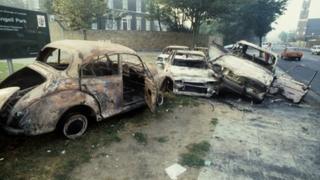 The Metropolitan Police has publicly apologised to the family of a woman who was shot by a police officer, sparking the 1985 Brixton riots.
Cherry Groce was left paralysed from the waist down when she was shot by police looking for her son Michael in connection with a robbery.
She died in May 2011, almost 26 years after the riot.
Commander Neil Basu said he had met Mrs Groce's son and had offered him and his family an apology.
Mr Basu said: "There is no doubt that the Met were responsible for the injuries to Mrs Groce in 1985 and it is only right that her family receives an apology.
"I am happy to for it to be known publicly that I met with her son and offered him and his family an apology on behalf of the Metropolitan Police Service."
Photographer died
A major review of Metropolitan Police gun policy after the shooting led to a ban on CID detectives carrying firearms.
Michael Groce was never charged with an offence relating to the armed robbery - or the riot.
During the riot a photographer died after being hit on the head with a brick.
Rioters set alight a barricade of cars across the Brixton Road with petrol bombs, while some shops were looted.
Insp Douglas Lovelock, who shot Mrs Groce, was cleared of all criminal charges in 1987.