Judge rejects review over QPR plans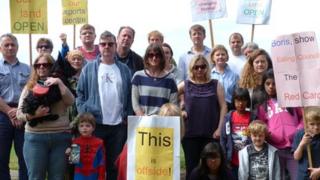 A High Court judge has rejected requests to review the multi-million pound development of a north-west London sports ground.
Save Warren Farm campaigners wanted the review of plans to sign over 61 acres (25 hectares) of public land to Queens Park Rangers football club.
Residents in Ealing said they would be losing public open space.
Ealing Council, which owns the site, said the plan would see a new community sports facility for the area.
At a hearing on Thursday, the judge said the council had acted appropriately in granting QPR planning permission to redevelop the site.
Campaigners say the part of Warren Farm Playing Fields left for community use would be inadequate for the large sports tournaments held there by local schools.
The chairman of Ealing Civic Society, Robert Gurd, said: "Instead of being sensitively designed to fit in with its surroundings, the proposed buildings would jar like a very bulky warehouse in the countryside."
Training academy
Ealing Council said the site was practically derelict.
It said alongside the QPR training academy, a multi-million pound sports facility would be built to give local people access to "high quality community and sports facilities."
That would include better football and cricket pitches, a new artificial turf pitch, and a multi-use games area suitable for sports such as netball, said the council.
Carolyn Brown, chairwoman of one of the groups opposing the plan, Hanwell Community Forum, said: "They are knocking down a derelict sports pavilion, nobody can argue with that.
"But this building is surrounded by a lot of public land well used by the community.
"A fence is being built around this land, essentially controlling when the public can enter."
Campaigners are now preparing papers calling for a hearing to ask that the judge's decision is reconsidered.
They have until Tuesday to file the request with the High Court.